2022 Children's Lit: The Year in Miscellanea
It's time to take a look back at the year that was in children's lit miscellanea.
Read previous Year in Miscellanea Posts:
SCROLL TO KEEP READING THIS POST
2021, 2020, 2019, 2018, 2017, 2016, 2015, 2014, 2013, 2012, 2011, 2010, 2009, 2008
---
BEST CHILDREN'S LITERATURE-INSPIRED SNEAKERS (SECOND RUNNER UP): THE GRINCH ADIDAS
It's sort of crazy how much this pair of shoes looks like Dr. Seuss's MOST famous character (yep, I said it – sorry, Cat in the Hat). What's the opposite of anthropomorphic? De-anthropomorphic? These sneakers are a stroke of de-anthropomorphic genius.
---
BEST CHILDREN'S LITERATURE-INSPIRED SNEAKERS (FIRST RUNNER UP): R.L. STINE X KAWHI LEONARD
Look at R.L. here. Dude is GIDDY that New Balance made a Goosebumps-themed Kawhi Leonard sneaker.
Surely, I thought, SURELY, this must be the best children's literature-inspired sneaker of the year. But I was wrong . . .
---
BEST CHILDREN'S LITERATURE-INSPIRED SNEAKERS (WINNER): THE 'LOVE YOU FOREVER' NIKES BY DRAKE
This one wins for the sheer OMG factor. Rap superstar (and proud Canadian) Drake pays homage to fellow Canadian Robert Munsch's most well-known picture book in his collaboration with Nike.
---
BOOK THAT MOST MADE ME THINK OF 80s R&B MUSIC: SOLIMAR BY PAM MUNOZ RYAN
As soon as I saw the Newbery winner's latest book, I thought of R&B legends Shalamar, and this song began playing in my head:
---
DOPPELGANGER OF THE YEAR: ED SHEERAN AND THE STINKY CHEESE MAN
Okay this just seems mean to me.
---
BEST UNINTENTIONAL FILM ADAPTATION OF SAM & DAVE DIG A HOLE: RAYMOND AND RAY
I have the great Julie Danielson to thank for alerting me about this Ewan McGregor and Ethan Hawke film on Apple that definitely reminds me of The Book That Launched 1000 Theories. The resemblance is uncanny.
---
BEST CHILDREN'S LIT REFERENCE ON THE SIMPSONS: DON'T LET THE PIGEON . . .
Picture book as PSA on a recent Simpsons episode (I'm also quite partial to Harold the Delusional Vandal in that first shot)
---
HALLOWEEN COSTUME OF THE YEAR: OBSCURE CHILDREN'S AUTHOR
Leave it to Dan Santat to put the best possible children's literature spin on this October meme.
---
JACKET FLAP COPY OF THE YEAR: THE GREAT ZAPFINO BY MAC BARNETT AND MARLA FRAZEE
The best summary of one of the best picture books of 2022. (Photo via @librarychrissie on Instagram)
---
BEST SWEATER: TRUFFULA TREE SWEATER BY SAM BARSKY
Thank you, Sam Barsky for answering the question: What do you wear on a trip to the Dr. Seuss Museum? This guy's knitting skills are endlessly impressive.
BEST READ ALOUD: DJ KHALED
Literacy and life-skills by Khaled.
---
BOOK TITLE OF THE YEAR: DOES A BULLDOZER HAVE A BUTT? BY DERICK WILDER AND K-FAI STEELE
At its best, a book title should grab readers' attention, yet also make them curious to find out more. Check and check for this ode to the rears of inanimate objects. And an extra check for making me laugh just about every time I see it.
---
AUTHOR/ILLUSTRATOR WHO MOST REMINDS ME OF JESUS: JAMES YANG
The Geisel-winning author/illustrator took to Twitter with his biblically-inspired skincare routine. Hey, that's why we call book makers "creators", amiright?
---
SMARTEST DOG: MINH LÊ'S DOG DESTROYING HOW TO STEAL A DOG
YA COVER OF THE YEAR: THE FIRST THING ABOUT YOU BY CHAZ HAYDEN (DESIGNED MY MATT ROESER)
Allow me to barely mention anything having to do with YA books all year, and then swoop in at the end of the year with my strong YA cover opinions. This one jumped out to me more than any other.
---
MIDDLE GRADE COVER OF THE YEAR: TUMBLE BY CELIA C. PÉREZ (DESIGNED BY JASMIN RUBERO)
That "READ ME!!!" you just heard was coming from this book cover.
Which brings us to our next category . . .
---
BEST AUTHOR #BOOKFACEFRIDAY: CELIA C. PÉREZ
Author Celia C. Pérez takes #bookfacefriday to the next level by utilizing her own book.
---
BEST #BOOKFACEFRIDAY: DEAR MR. HENSHAW
---
BEST #BOOKFACEFRIDAY ON A BOOK: J.R. SILVER WRITES HER WORLD BY MELISSA DASSORI (ILLUSTRATED BY CHELEN ÉCIJA, DESIGNED BY JENNY KIMURA
Art imitates life in one of the best covers of the year.
---
BEST BUTTON: THE MORAL PANIC IS ABOUT ME!!!
Made by Zach Ozma and worn by author Kyle Lukoff.
---
BEST COPYRIGHT PAGE: THE PIGEON WILL RIDE THE ROLLER COASTER! BY MO WILLEMS
I think my favorite part is the summary.
---
BEST ELBOW NIPPLE?: DAISY FROM MONSTERS IN THE FOG BY ALI BAHRAMPOUR
One of my favorite picture books of 2022 made me go: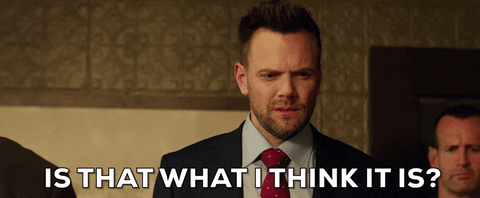 ---
THE 'SAW' AWARD FOR DEMISE OF THE YEAR: THE TROLL VS. THE THREE WATERFALLS IN THE THREE BILLY GOATS GRUFF BY MAC BARNETT AND JON KLASSEN
The Troll really gets it in Mac Barnett & Jon Klassen's 2022 retelling of The Three Billy Goats Gruff, enduring not one, not two, but THREE separate waterfall plunges before floating off, never to be seen again.
---
TIC TOK OF THE YEAR: MIKE CURATO ADDRESSES THE HATERS
It's not what you think it is. Author/illustrator Mike Curato pulls the emotional switcharoo of the year while talking about hateful comments he's received about his book Flamer.
---
TWEET OF THE YEAR: SNOOP DOBBY DOBB
D oh double G channels his inner Harry Potter.
---
LIBRARY DECOR OF THE YEAR: THE WINNIE-THE-POOH TREE IN @STROHREADS' LIBRARY
It's been in place for a while, but it's time to properly recognize how cool this is.
Which brings us to our next award . . .
---
BEST FEELING BOOK OF 2022, AND BY "BEST FEELING" I DON'T MEAN THE BOOK THAT MAKES YOU FEEL THE BEST (ALTHOUGH THIS ONE DOES MAKE YOU FEEL PRETTY GOOD), BUT THE BOOK THAT LITERALLY JUST FEELS REALLY COOL IN A TACTILE WAY: RICK THE ROCK OF ROOM 214 BY JULIE FALATKO AND RUTH CHAN
You have to feel this one. Rick feels rough and it's the perfect touch for this wonderful picture book.
---
BEST CORN MAZE: WINNIE-THE-POOH
---
SPREAD OF THE YEAR: BOOBIES BY NANCY VO
You know, the title warned me, it did, but I still didn't quite see this coming. What do you expect from one of The Most Astonishingly Unconventional Books of 2022.
---
THE 'THERE'S A LOT GOING ON HERE' AWARD: E.T. FUNKO POP LITTLE GOLDEN BOOK

Okay, let me get this straight. It's a Little Golden Book, based on a 1982 film, but all the characters have been made to look like collectable vinyl figurines? Got it.
---
HALLOWEEN PUMPKIN OF THE YEAR: I LOVE BOOKS
I really need to hold a pumpkin decorating contest in the library sometime.
Filed under: Articles
About Travis Jonker
Travis Jonker is an elementary school librarian in Michigan. He writes reviews (and the occasional article or two) for School Library Journal and is a member of the 2014 Caldecott committee. You can email Travis at scopenotes@gmail.com, or follow him on Twitter: @100scopenotes.