2021 Children's Lit: The Year in Miscellanea
It's time to take a look back at the year that was in children's lit miscellanea.
Read previous Year in Miscellanea Posts:
SCROLL TO KEEP READING THIS POST
2020, 2019, 2018, 2017, 2016, 2015, 2014, 2013, 2012, 2011, 2010, 2009, 2008
Nightmare Fuel of the Year (Runner Up): The Clifford movie stand-in puppet
How do you have actors respond to a giant red dog that will be added in post production? Have two dudes wear this contraption to film each scene.
Nightmare Fuel of the Year (Winner): Flying fish with diarrhea
This is from the book It Could Be Worse, and yeah, this would be worse.
Best Sushi: Hungry Caterpillar sushi in Northampton, MA
Author Video of the Year: Minh Lê blooper reels
I'm a sucker for blooper reels. They make me laugh every time. This one, from author Minh Lê is one of my favorite things from 2021. Wait for the cushion turn.
Tattoo of the Year: Beekle
Beekle inspired the 2015 Caldecott committee to get tattoos, and it's still inspiring ink today.
Wrapping Paper of the Year: Hedgehog and friends wrapping paper by Lauren Castillo
A classy way to show your children's literature love.
Miscommunication of the Year: Guy who entered a library contest meant for kids
I laugh every time.
Book Cover Spoof of the Year: Becoming in Dog Man: Mothering Heights
Departure of the Year: Mo Willems with Opposites Abstract
I can't think of any book creator that made a book less like their previous books this year.
Book Title that Immediately Cues Up a Song in Your Head (Runner Up): What is Love? by Mac Barnett and Carson Ellis
Book Title that Immediately Cues Up a Song in Your Head (Winner): Pony by R.J. Palacio
Collaboration of the Year: Christian Robinson and Target
Illustrator Christian Robinson designed a bunch of products for Target this year. Just like you, I wanted them all.
The Kramer Award (in honor of his famous Coffee Table Book that could be turned into a little coffee table): What's Up, Construction Truck?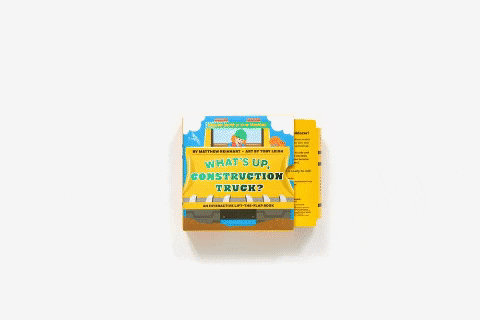 A truck book that turns into a friggin' truck, people. Amazing.
Plant of the Year: Trees
2021: The Year of the Tree
Stationary of the Year: Drawings of Things card set by Jon Klassen
Do you like things? Do you like postcards? This is the set for you.
Flex of the Year: No type on the cover of A House by Kevin Henkes
The Henk (Kevin Henkes) asserts his utter dominance once again by going no title and no author name on the cover. It's like Adele going no type on the cover of her latest album.
And what is Keven Henkes if not the Adele of children's literature?
Twist of the Year: Physically twisting the book Mel Fell by Corey Tabor
Not only does the book read from bottom to top (a la Tops and Bottoms), but the orientation turns 180 degrees at the climax (see how in the video above). Viva physical picture books!
Rough Draft of the Year: The case cover for Strollercoaster by Matt Ringler and Raúl the Third
Remove the jacket and the cover is drawn out in pencil. Such a cool surprise.
Deception of the Year: Jarrett J. Krosoczka and the ice cream truck:
Sometimes you do what you have to do.
Title of the Year (YA Category): Huda F Are You? by Huda Fahmy
Great title, great book.
Title of the Year (Runner Up) (Picture Book Category): I Eat Poop. by Mark Pett
Standout title work from one of my favorite picture book makers. And don't overlook the importance of that period.
Title of the Year (Winner) (Picture Book Category): Chez Bob by Bob Shea
This book should win best title every year forever.
Farewell of the Year: Horn Book Editor Roger Sutton retires
He called 'em like he saw 'em, and I'm going to miss his very tall and bowtied presence at the helm of The Horn Book.
Existential Crisis of the Year: Colby Sharp stuck in a reading rut
Colby breaks out the acting chops for his best youtube channel title card of the year.
Title Change of the Year: George by Alex Gino becomes Melissa
Gino's wanted the title change for a while, and this year the change was made.
Barcode Placement of the Year: No Pants!
One of the most surprising reveals of 2021.
Doppelgänger of the Year (Runner Up): Author/illustrator Peter Brown and Italian soccer star Leonardo Bonucci:
Scoring goals in last summer's European Championships, writing and illustrating books – what can't this guy do?
For reference, here's the real Peter Brown:
Doppelgänger of the Year (Winner): Author Daniel Nayeri and the guy in the Ritz Cracker Instagram ads
The hat, the beard, the scarf, the VIBE – I was genuinely so confused when I first saw this ad. And I'm actually still not sure that the guy in the ad ISN'T Printz winner Danial Nayeri.
Free Little Library of the Year: Carved from a block of ice
If Ben Wyatt's Ice Town had a Free Little Library, this would be it. Parks and Recreation fans know.
#bookfacefriday of the Year: The Rabbit hOle
The headstand puts this one over the top.
Best Term Limit Extension: Jason Reynolds as National Ambassador for Young People's Literature
As his recent Colbert show appearance confirms, he's the right person for the job.
Best Impression of an Picture Book Import: The Big Bath House by Kyo Maclear and Gracey Zhang
A picture book published in the U.S. that has *gasp* nudity? A rare thing indeed and a great book to boot.
Best (Failed) Cryptocurrency with a Vague Children's Lit Connection: J.R.R. Token
It didn't last long. Also, this whole award hinges on whether you consider The Hobbit a children's book.
Two-Page Spread of the Year: Watercress by Andrea Wang and Jason Chin
From an Ohio corn field to China, all in one seamless image.
Return of the Year: Amos McGee
I didn't expect to see him again, and I glad he's back.
Terrible Trend of the Year (Tie): Book censorship by school districts
Here's hoping Central York is not a sign of things to come.
Terrible Trend of the Year (Tie): Children's literature greats passing away
Jerry Pinkney, Lois Ehlert, Norton Juster, Eric Carle, Gary Paulsen, Floyd Cooper, Beverly Cleary, and the list (sadly) goes on and on.
Tweet of the Year: Caesar to Caesar salad Animorphs Cover
Well done, Ben Javert.

If you like this post, you might like my newsletter, FROM THE DESK OF 100 SCOPE NOTES. You can click here to subscribe.
Filed under: Articles
About Travis Jonker
Travis Jonker is an elementary school librarian in Michigan. He writes reviews (and the occasional article or two) for School Library Journal and is a member of the 2014 Caldecott committee. You can email Travis at scopenotes@gmail.com, or follow him on Twitter: @100scopenotes.