4 Snow-Themed Books You'll Want to Have When the Flakes Start Flying
If you live in a place where it snows, you know that the flakes can start flying at any time. Here in Michigan, we might get a little snow in October. We've had snow days before Thanksgiving. You just never know.
So why not be prepared?
SCROLL TO KEEP READING THIS POST
Here are a few 2023 snow-related books you'll want to have at the ready.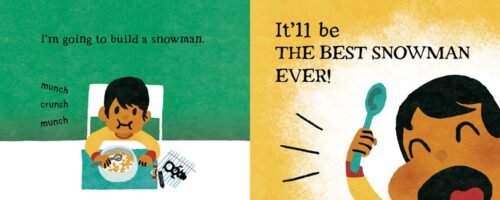 I'm Going to Build a Snowman by Jashar Awan
I can't wait to share this one with students. It's a story about a kid on a mission to build the best snowman ever. One that will not only look perfect, but will sing and dance to boot. Do things work out as planned? No! But maybe that's the best thing that can happen.
The Magical Snowflake by Bernette Ford & Erin K Robinson
It's the middle of the winter and there's still no snow. A girl makes a wish and a magical snowflake brings the winter magic.
On a Flake-Flying Day: Watching Winter's Wonders by Buffy Silverman
How's your winter-themed poetry section these days? Slim? Nonexistent? Here's a book that will help. A read aloud ready winter poem set to photographs, featuring plenty of nonfiction backmatter.
Just One Flake by Travis Jonker

Well, since we're on the topic (never mind it's a topic *cough* I chose), Just One Flake is a book that will make a perfect snowy read aloud. Liam has one goal: catch a snowflake on his tongue. He'll to whatever it takes. Things get ridiculous. In the end Liam doesn't get exactly what he wanted, but he discovers so much more.
Filed under: Articles
About Travis Jonker
Travis Jonker is an elementary school librarian in Michigan. He writes reviews (and the occasional article or two) for School Library Journal and is a member of the 2014 Caldecott committee. You can email Travis at scopenotes@gmail.com, or follow him on Twitter: @100scopenotes.