5 Questions With Leslie Helakoski
I'm thrilled to have the first 100 Scope Notes author interview with Leslie Helakoski, author of "Big Chickens" and "The Smushy Bus". It's been a busy January for Ms. Helakoski, as she will have two new books published this month, "Big Chickens Fly the Coop" and "Woolbur". I caught up with Ms. Helakoski (before her author visit to my school) to ask her about her career and the warm reception her books have been receiving.
Scope Notes: "Big Chickens" was selected as the 2007 Michigan Reads! Book. It was sent to 5,000 schools and libraries state wide. What was your reaction upon hearing this news?
Leslie Helakoski: I did the chicken dance, of course! It was very good timing
because I had quit my job to write and paint full time and I was kind
of nervous about it.
SCROLL TO KEEP READING THIS POST
SN: Students want to know: when did you decide to become an author?

LH:When I read Jon Scieszka's book, The Stinky Cheese Man. I was a graphic designer like he was and the book was such fun. I thought, "I want to do this."
SN: "Big Chickens" has been a hit read-aloud in our libraries. Have you had any memorable reactions from students?
LH: My favorite reaction is laughter. I also love when kids are inspired to write or draw something after hearing the story.
SN: Was "Big Chickens" inspired by any real life events?
LH: Yes! The chickens in the book are me and my three sisters! When we were young, we would often play in the woods and pastures nearby. I was afraid of all the things in the Big Chicken book–leaping across a deep muddy ditch, cows, and falling in the water –although it was a bayou, not a lake. The cave/wolf part is made up but sometimes we
were chased by a large dog.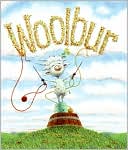 SN: You have two new books out: "Woolber" and "Big Chickens Fly the Coop". What should readers expect from these?
LH: In Big Chickens Fly the Coop, the chickens really want to see the farmhouse but each time they set out, they get scared and run back to the coop where it is safe. Woolbur is about a sheep that does things his own way which drives his teachers and parents crazy. Both books are lots of fun and I can't wait to read them to you. You can also be the first to know, I just finished writing a third chicken book called, Big Chickens Go to Town.
A big thank you to Leslie Helakoski for taking part!
Click here to visit her website
Filed under: Authors
About Travis Jonker
Travis Jonker is an elementary school librarian in Michigan. He writes reviews (and the occasional article or two) for School Library Journal and is a member of the 2014 Caldecott committee. You can email Travis at scopenotes@gmail.com, or follow him on Twitter: @100scopenotes.