100 Scope Notes Predictions: Children's Lit Awards
How hard would it be to choose these awards? I'm still a youngster when it comes to the field of librarianship (3.5 years and going strong!), so excuse my wide-eyed flabbergastedness, but trying to nail down some likely candidates for the upcoming childrens lit awards is like trying to choose between Swiss Cake Rolls and Nutty Bars – even if you choose the Nutty, you're still passing up something special. But those who participate have the most fun. So it is with an open heart and an empty stomach that I say unto thee:
SCROLL TO KEEP READING THIS POST
Here are my wildly subjective and off-base picks for children's lit glory*.
Newbery Medal
"Elijah of Buxton" By Christopher Paul Curtis.
Recently on "I Love the 80's" someone said of the movie Amadeus: "It's like the film was engineered to win Oscars". Well, I get the same feeling when discussing "Elijah". Except, not Oscars.
Newbery Honor
"Feathers" By Jacqueline Woodson.
This title just keeps popping up all over the place. Bound to bring home bacon.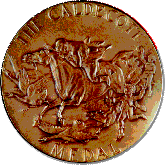 Caldecott Medal
"The Wall: Growing Up Behind the Iron Curtain" By Peter Sis.
Hard to deny this one folks. It's unique, personal, and was created by a giant in the field who has yet to win the big one.
Caldecott Honor
This book received more critical love than you might think. Don't count out "Leaves" to pick up some hardware.
I just have a feeling about this one. Do you ever wonder if Caldecott placement is taken into account when designing cover art? Well I don't think so either (nervous laugh). But wouldn't that honor medal look nice sitting right in that top right corner? You can't deny THAT, right?

Be sure to tune in for the awards announcement live on January 14th 2008 at 7:45 am to find out the true winners. Good luck to all.
*Not really. I based my picks on two criteria: personal opinion and critical success.
Filed under: Articles
About Travis Jonker
Travis Jonker is an elementary school librarian in Michigan. He writes reviews (and the occasional article or two) for School Library Journal and is a member of the 2014 Caldecott committee. You can email Travis at scopenotes@gmail.com, or follow him on Twitter: @100scopenotes.