Exclusive Cover Reveal: NOTHING by Nicholas Day and Chris Raschka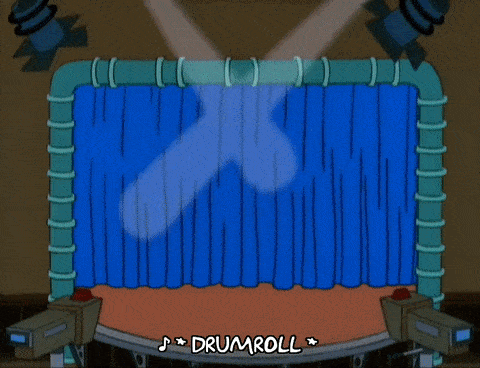 I've got Nothing for you today.
That's right – Nothing.
SCROLL TO KEEP READING THIS POST
But Nothing isn't nothing. Nothing is an upcoming picture book (out April 24, 2024) about the famous John Cage composition 4'33". Musicians performing 4'33" are instructed to not play their instruments, allowing the audience to tune into the sounds occurring naturally around them.
How do you make a picture book about Nothing? Nicholas Day and Chris Raschka were up for the challenge. Today we'll take an exclusive first look at the cover, but before that, I wanted to learn a bit more about how this book was made.
Travis: Hi Nicholas! How did you come to write this story about John Cage, David Tudor, and 4'33"?
Nicholas Day: Hello, Travis! It's a pleasure to be here. John Cage might seem like a strange subject for a picture book—he's sometimes considered a difficult composer, and his music can sound strange, even alienating. (It can also sound delicate and welcoming.) But Cage is a weirdly perfect subject: at the heart of his music—and his ideas—are the sort of profound, seemingly naive questions that picture books are very good at posing. And that children are very good at posing. Cage never lost a sort of innocent, child-like fearlessness. He was always willing to ask the most basic questions—as I say in my note at the back of the book, for Cage the questions were always the important part, because the questions were more interesting than the answers. 
There's no better example of this than 4'33", Cage's so-called silent piece—a piece of music with no notes, a composition with a blank score. But from this nothing, Cage conjures up a whole world of sound—the world around us, the very world that we spend our lives not hearing. It's a deeply philosophical work, but it isn't hard to understand. It is also just the sort of thing that younger minds grasp far quicker than ours. And it doesn't take anything away from the depth of 4'33" to say that young readers will also see it as comical, as a great gag—a piece of music with no music—and I think they'll love that. 
Travis: Hi Chris! How did the manuscript make its way to you?
Chris Raschka: My agent, Brenda Bowen, wrote to me to say she had a wonderful manuscript about John Cage for me to look at. I was immediately interested.
Travis: Nicholas – I think the structure of the book works so well – shifting back and forth between David Tudor's 4'33" performance and John Cage's life. How did you decide on this structure for the book?
Nicholas Day: This sort of back-and-forth seems to come naturally. (In my book about the theft of the Mona Lisa, I alternate between the investigation of the theft and Leonardo's life.) It made a lot of sense to start with the mystery of 4'33" (the reader and the audience both know that something strange is happening, but they have no idea what) and then step back into the story of Cage's life. But this isn't a book of biography, or at least it comes at biography sideways. The ideas of 4'33" are the heart here.
Travis: Chris – How do you begin making the art for a picture book? How did you approach illustrating Nothing?
Chris Raschka: My first approach, which we didn't wind up using, was to make the ground of the illustration, that is, the paper, the subject. Just as the surroundings and happenstance associated with musical performance and listening is the essence of some of John Cage's music, including 4'33'', I wanted what we sometimes overlook in book illustration, the paper of the book itself to be the star.
Well, we didn't go in that direction after all.
SCROLL TO KEEP READING THIS POST
Next I thought I'd make all of the illustrations from forms created by outlining river stones, as John Cage had once done. This proved to be too much of a stretch for conveying the narrative, as well.
At last, I used a number of techniques that involve quite a lot of chance operations, a wayward line, paint flowing through paint, vaguely symbolic imagery, to create the feel of experimentation in Cage's music for the paintings.
Travis: Nicholas – What was the biggest joy in writing this book? The biggest challenge?
Nicholas Day: I suppose the greatest joy was listening to Cage again, followed closely by reading Cage and reading about Cage—he had a colorful life that stretched the century and he came in contact with (seemingly) everyone in the avant-garde. And my greatest frustration would be the exact same thing because of course I couldn't include almost any of that. 
Travis: Similar question for you, Chris: What was the biggest joy in illustrating this book? The biggest challenge?
Chris Raschka: The biggest joy in illustrating, is simply the painting itself. It is always a joy to dip a brush into color. Biggest challenge—paying proper homage to Mr. Cage.
Travis: Final important question for both of you: What snack puts you in peak creativity mode, or what snack powered NOTHING?
Nicholas Day: Coffee is a snack, right?  
Chris Raschka: Snacks ARE important, you are so right. Tea with cookies at 4 o'clock.

Thank you Nicholas and Chris for taking my questions! And now, for the first time, the cover for Nothing: John Cage and 4'33" (out April 24, 2024)
From the publisher:
With the visionary spirit of the work it chronicles, Nothing: John Cage and 4'33" is sure to spark big questions for readers of all ages. August 29, 1952: An audience at the Maverick Concert Hall waits with bated breath for the pianist David Tudor to start playing. Little did they know that the performance had already begun. Tudor was performing John Cage's 4'33", a composition unlike any other. Not a single note came from the piano, but the audience was shifting; birds were chirping; rain was pattering. Cage wanted us to notice what nothing sounds like. Is it ever truly silent? Or are we just not listening?
Filed under: Cover Reveal
About Travis Jonker
Travis Jonker is an elementary school librarian in Michigan. He writes reviews (and the occasional article or two) for School Library Journal and is a member of the 2014 Caldecott committee. You can email Travis at scopenotes@gmail.com, or follow him on Twitter: @100scopenotes.