THIS BOOK IS NOT FOR YOU! An Interview with Shannon Hale
Next week, a book comes out that I can't wait to share with my students: This Book Is Not for You! by Shannon Hale and Tracy Subisak. It addresses (and dismantles) the limiting Boy Book/Girl Book mindset that has plagued reading.
But this is no "Hey kids, listen up"-type affair. It's a wonderful read aloud that will make kids laugh as much as it will make them think.
SCROLL TO KEEP READING THIS POST
It takes skill to do that, and so it should come as no surprise that Shannon Hale is behind the text. As soon as I heard about the book, I knew I wanted to talk with her about it . . .
Travis Jonker: Thanks for taking my questions, Shannon! This Book is Not for You! is wonderful – I can't wait to share it with kids.
Shannon Hale: Thanks so much, Travis!
Travis Jonker: You've been such an advocate for grown-ups to drop the limiting "books for boys", "books for girls" labels and support kids in reading whatever they are drawn to. This Book is Not for You! addresses this topic beautifully. I'm guessing this book came together differently than your other books?
Shannon Hale: You guessed correctly! Yes I've been speaking about this topic for 15+ years, but for so long, I never felt like I got any traction. Either I got push back from people ("boys won't read about girls, you're not going to change that") or it didn't seem anyone noticed my hollering much at all. But it's so important to me that I kept on speaking up.
Then a few years ago one particular blog post suddenly got a lot of attention. Tens of thousands of people read it and shared it. I have no idea why. Perhaps it was finally the right time. That led to some media interviews and then a short essay I published in The Washington Post.
I hadn't thought about creating a picture book till Dial editor Nancy Mercado read my WaPo piece and reached out. I pitched her a few different ways I could address the topic in picture book format, and we both ended up liking the same one. Add to that, I've always been enamored with bookmobiles and yearned for more rural settings in picture books, so I ended up with this story.
SCROLL TO KEEP READING THIS POST
TJ: I think the point in the story when the old man indicates that only cats should read books about cats is perfect. How did that idea come to you?
SH: It came directly from my school presentations. I have different ways I talk about gendered reading to every age group I present to. (I write for a lot of age groups! All of them, in fact!) For the youngest kids, I wanted to present it in a way they could grasp that was also funny and interactive. I know going into a school that many of those kids have been told, for example, that The Princess in Black is just for girls, and so I need to dispel that nonsense immediately.
I ask, "If a book is about cats, can only cats read it?"
And the kids shout, "NO!"
"If a book is about robots, does that mean only robots can read it?"
"NO!"
"If a book is about a boy, can only boys read it?"
"NO!"
"How about if it's about a girl?"
TJ: Tracy Subisak's art is wonderful. Did you two communicate during the process, or was it more of a traditional arrangement (more separate)?
SH: She is wonderful! And I'm very naughty. I know traditionally author and illustrator are kept at a safe distance, but that always feels off to me. So yeah, I hunted down Tracy's email address just to introduce myself and cheer her on and make myself available to her if she had need of me. I never give art notes or anything over the back fence! So in that way, the arrangement was still more traditional. But especially after doing so many illustrated books in collaboration with my best friend LeUyen Pham, I love being in some communication with the illustrator.
TJ: A big question here: What snack puts you in peak creativity mode? Or, what snack powered the making of This Is Not a Book for You?

SH: I love snack questions. I do keto intermittently, so during the writing of this book, I suspect there was a great deal of macadamia nuts, jerky, pork rinds, and Diet Dr. Pepper. For the other times, I was likely fueled by donuts. All the donuts.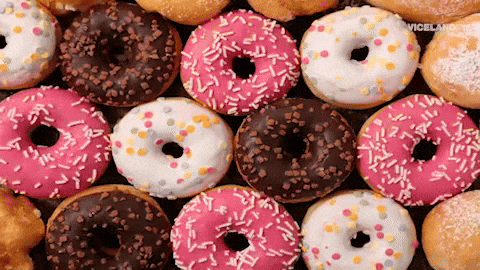 TJ: Thank you for taking my questions, Shannon!
This Book Is Not for You! comes out on Tuesday, April 19. Here's a summary from the publisher:
Stanley's thrilled for bookmobile day—until the old man at the window refuses to lend him the story he wants, all because it features a girl. "Girl books" are only for girls, the book man insists, just like cat books are only for cats and robot books are only for robots. But when a dinosaur arrives at the bookmobile and successfully demands a book about ponies, Stanley musters the courage to ask for the tale he really wants—about a girl adventurer fighting pirates on the open seas. By speaking up, Stanley inspires the people, cats, robots, and goats around him to read more stories outside their experiences and enjoy the pleasure of a good book of their choosing.
Filed under: Authors
About Travis Jonker
Travis Jonker is an elementary school librarian in Michigan. He writes reviews (and the occasional article or two) for School Library Journal and is a member of the 2014 Caldecott committee. You can email Travis at scopenotes@gmail.com, or follow him on Twitter: @100scopenotes.