Cover Reveal Q&A: THE BLUR by Minh Lê and Dan Santat
Back in 2017 Minh Lê sent me an email. It was the outline of a new story he was working on called The Blur.
Minh and I are pals and share our work with each other sometimes. I read the story, and loved it instantly.
SCROLL TO KEEP READING THIS POST
Now that story has been brought to life by Dan Santat, and will be out in the world on May 3rd, 2022.
Today, we get a first look at the cover.
But first, I had to talk with Minh and Dan about how The Blur came to be.
Travis Jonker: Minh, The Blur appears to be a superhero book, but it's also a beautiful and bittersweet story about growing up. It's a book that should become a graduate and baby shower staple, IMHO. You know people (especially parents) are going to cry, right? Why do you toy with our emotions like this???
Minh Lê: Hahaha—well, Drawn Together was a book that often brought tears to people's eyes, so I guess maybe I got hooked? (insert sinister laugh.)
What I love about Dan's artwork is that his illustrations have a tremendous energy and humor that jumps off the page, but it's also grounded in an incredible amount of heart. So when I was thinking of another book for us to do together, The Blur felt like a natural fit because you have (1) the superhero factor as the child runs all over the place with the parents doing their best to keep up and (2) the real-time nostalgia that you feel when you realize that time is passing by too quickly. 
That being said, we apologize in advance for any tears that may blur your eyes because of this book.
TJ: Can you remember the spark that led to this story, or is it . . . a blur? Don't worry, I groaned so you don't have to.
ML: Hahah—well you would know because you were one of the first people I shared the concept with!
When I first came up with the idea for the book, my wife and I were in the thick of our own blur of early parenthood and it was a constant balancing act between trying to savor each moment and just surviving the day. Dan's kids are older than mine, but I knew he was in the midst of a lot of change as his kids rapidly approached teenagedom, so I hoped it would resonate with him. And actually, at the time, our editor Rotem just had a baby so we were all in different stages of the blur.
And as we worked on the book, it has served as a nice reminder to myself to take time to savor all these moments as they fly by. Our kids are 9 and 6 and at least two or three times a week, my wife and I get hit by this feeling that our kids are growing up so fast… and now when that happens we look at each other and say, "It's the blur…"
TJ: I'm definitely familiar with the blur.
Who would win in an arm-wrestling match between The Blur and Oh, the Places You'll Go? Important to remember: Ted Geisel was in the Army.
ML: Well Oh, the Places You'll Go starts by specifically saying that the main character has "brains in your head" and "feet in your shoes" but it doesn't say anything about "muscles in your arms"… so I think The Blur would easily win. Of course, I might be biased so I'll let the rest of the text speak for itself. After all, the book does say,
"Wherever you fly, you'll be the best of the best. Wherever you go, you will top all the rest. Except when you don't. Because, sometimes, you won't."
Obviously, Geisel was mentally preparing for the eventual showdown and inevitable arm-wrestling defeat at the hands of The Blur. I rest my case.
TJ: Sorry, Ted.
What was the most challenging aspect of the story to get right? How'd you solve it?
ML: Since "the blur" has multiple meanings that resonate with different age groups, this book really had to walk a tightrope that kept the various ages of the readers in mind.
When people ask me for picture book writing advice, I tell them, "A great picture book can appeal to readers to all ages… but for a picture book to be great, it has to appeal to children." So while this book has an angle aimed at adults, we wanted to make sure that we always kept a focus on the kid appeal of the book.
Luckily, that's not hard given Dan's colorful and fantastical artwork. I hope kids will love seeing themselves as superheroes running roughshod over their parents. My hope is that kids will enjoy the fun and energy of the book… and only when the book is done will they wonder why the grown-ups are crying. (insert sinister laugh again.)
TJ: You are disturbingly good at that sinister laugh.
Okay, Snack Talk: We've talked before about your favorite snack, but are there any new snacks making into your rotation lately?
ML: Last winter my wife introduced me to bone broth… which I know a lot of people have been using for a long time because of the health benefits, but for me it was a revelation: You mean I get to have soup all day long?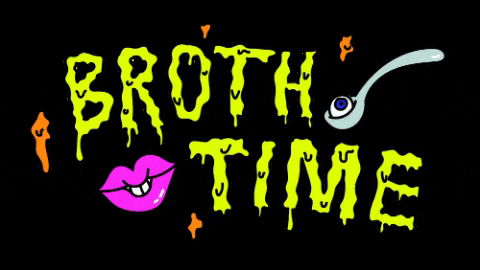 TJ: Mmmm. Bone broth. Never had it, but it sounds good.
Can you tell us a bit about making the art for The Blur, Dan?
Dan Santat: This was my first effort in creating artwork with fully rendered color pencil drawings.
I'm usually an ink and watercolor guy but I wanted something more rigid to provide tighter details in these frozen moments of time.
In certain cases you'll see a lot of construction lines floating around the figures which almost look like I'm trying to find my way around a drawing and figure out how I want the thing to be drawn. This was done with a purpose of a sort of shimmer to emphasize energy or "a blur" or maybe a "chi" of sorts.
The sparkles which you find in certain magic moments of the book was a collaborative effort. I originally used it as a design element on the spread where the baby shares her "Super Magnetic Powers" but as a group we all agreed that it would be an excellent narrative tool in terms of showing the real precious moments in life that really touch your heart.
What I love most about this book is that typical "graduation books" celebrate the child venturing off into the world to become something great, which provides an optimism for the future. This is a book more intended to reflect on the entire family and celebrate all the efforts it took as a whole to get to that moment, which is not something I've seen before.
Dan shared some early sketches for the cover:
SCROLL TO KEEP READING THIS POST
And now, for the first time, the cover for The Blur, illustrated by Dan Santat, written by Minh Lê, and art directed by Nicole de las Heras. Out May 3rd, 2022.
And how about the full jacket? Click to enlarge.
From the publisher:
Meet a child with superhero-like abilities . . . and the parents who are racing to keep up with her in this sweetly funny picturebook about the blur of childhood, from the award-winning creators of Drawn Together.
From the very beginning, there was something different about this child… An ultrasonic voice. Fantastically elastic limbs. Super-magnetic powers. But it wasn't until the child took her first steps that she became: THE BLUR!
Nothing can stand in her way as she takes the world by storm: always on the move and darting into danger! All too soon, she is zipping through the days, and zooming over the years…

Framed as an origin story, here is a fun superhero romp for kids, filled with bold and bright illustrations, that will pull at the hearstrings of every parent.
Filed under: Cover Reveal, Covers
About Travis Jonker
Travis Jonker is an elementary school librarian in Michigan. He writes reviews (and the occasional article or two) for School Library Journal and is a member of the 2014 Caldecott committee. You can email Travis at scopenotes@gmail.com, or follow him on Twitter: @100scopenotes.