100 Scope Notes ARC Giveaway
What's not to love about ARCs? The acronym is enough to get any book or librarian type excited:
SCROLL TO KEEP READING THIS POST
Advance = I'm getting to read something that most people have never seen.
Reader = Yes, I am an enjoyer of the printed word.
Copy = I get a copy. Alright.
Inspired by the wonderful children's lit blog A Fuse #8 Production (and the spirit of holiday mirth), I'm going to offer up some advance reader copies of recently released books. Here are the titles up for grabs:
"Heaven Looks A Lot Like the Mall" By Wendy Mass. ARC. Reviewed by Becky's Book Reviews.
"Knife Edge" By Malorie Blackman (The Sequel to Black and White). ARC.
(The ARC has a different cover)
"Butterfingers" By J.M. Trewellard. ARC.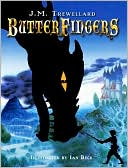 If you're interested in procuring one of these for your very own, send an email to scopenotes@gmail.com. Be sure to include the title of most interest to you. If you send that email by midnight of December 23rd, you're eligible. I'll throw all the names into a hat and draw three winners. Good tidings!
Filed under: News
About Travis Jonker
Travis Jonker is an elementary school librarian in Michigan. He writes reviews (and the occasional article or two) for School Library Journal and is a member of the 2014 Caldecott committee. You can email Travis at scopenotes@gmail.com, or follow him on Twitter: @100scopenotes.